HoopGurlz

As far back as I can remember, I have had to balance being an athlete with trying to maintain good skin. My teammates and I always tried the newest, coolest products on the market trying to find the magic cures for acne, oily skin and dryness -- usually with little or no success.
My father, a former athlete and coach, recommended that I use Buff Puffs and Sea Breeze to combat my skin issues by scrubbing my face really good, then using the Sea Breeze as an astringent to dry out the acne. He also recommended I lay in the sun to dry out my skin. As an obedient daughter, I did as he told me and began the excruciatingly painful process of making my skin better.
It wasn't until I was in high school that a good friend of mine who had been dealing with similar issues began to show me the light when it came to skincare. She had gone to a dermatologist by this time, and he had recommended her to use certain products that would cleanse the skin instead of stripping it, use a balancing toner to bring back the pH, and a moisturizer to hydrate and restore and protect the skin.
What a revelation!
I was 17 years old and for four years had been doing the complete opposite of what I was supposed to be doing. As the oldest in my family, I was a total guinea pig for skin care and suffered through most of my teens with bad skin. My father finally saw the light as well, allowing us to go to a dermatologist to get some correct advice. My siblings all benefited from this as they began their careers as athletes.
There are three basic skin types, but yours may not be exactly like any of those described because most skin is a mixture of these types. Your skin will be no exception. The basic skin types are oily, combination and dry.
Q: How do you determine what skin type you are?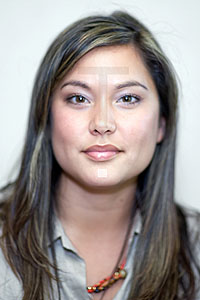 Glenn Nelson
The T-zone needs to be handled attentively.
A: First take a look at your skin to determine how your skin functions. The best way to do that is to have a clean face and look at your skin to see where you are oily (most of us are oily through the T-zone), where your skin is breaking out (through the cheek area, chin area, or forehead area), and if there are any dry patches on the face.
• Oily skin -- If your skin is oily you can usually tell because it has a shine to it morning, noon and night. Oily skin tends have more sebum, so it attracts more dirt and dust than dry skin. This makes it prone to black heads and acne.
• Combination skin -- The majority of us has this kind of skin, with a T-zone across the forehead, nose, and chin, and areas of dryness on the cheeks.
• Dry skin -- It looks dry and feels papery to the touch. It has a tendency to flake and often feels tight, especially after washing with soap. It lacks the protective sebum and so it reacts to very hot and very cold weather by tightening up.
Q: How do you decide what is a good skin-care regimen for you?

A: After determining what type of skin you have, get a good routine in place that will support the functioning of your skin and its needs. This will lead to better overall skin health and will combat the bacteria that commonly leads to breakouts. A skin-care routine requires washing your face morning and night, and especially after a workout or game. The body uses sweat to cool itself and release toxins from the skin, so it is important to wash these impurities from the skin, especially when they are combined with makeup.
• Oily complexions require using skin care that uses a non-drying cleanser. Use warm water to loosen dirt and use cold water to rinse. For oily skin, non-alcohol-based astringents are good to use after washing and use a light, non-greasy moisturizer morning and night. If you have very oily skin, a moisturizer isn't needed. For acne areas, you can use spot treatments containing salicylic acid. There are also face washes that contain salicylic acid, usually 1.0 percent, which are good to control acne.
• Combination skin types require a cleanser that is good for a combination skin so it isn't too drying. In the T-zone you can use an alcohol-free astringent to combat the oil but use a light moisturizer over the whole face. You may have to experiment with a few to determine which one works best for you, but try to avoid heavy creams.
• Dry skin requires a mild, creamy cleanser and alcohol-free toner. You will need to moisturize your face every day to help the skin stay supple. Exfoliants are good to use once a week to help with the dry, flaky patches and to also allow the product to penetrate the top layer of the skin more easily.
Q: What other things should I be doing to get the most out of my new skin care?

A: Believe it or not, regular changing of your pillowcase and sheets play an important part in helping your skin stay clear. You wouldn't put on last nights sweaty jersey to walk around in at school and you shouldn't sleep on dirty sheets night after night because they add to the bacteria growth. Don't get obsessive about changing your sheets, once a week is sufficient. Other suggestions are to watch your diet, take along cleansing sheets to games to wipe off afterwards on your face, chest, and back, and to be an advocate to your parents about what you need. If you are proactive then hopefully they will help you with your concerns. Here are a few drugstore brands I recommend for getting a good basic skin care established based on what skin type you are. Here they are in no particular order:

• Almay
• Aveeno
• Burt's Bees
• Kiss My Face
• Neutrogena
• Olay
• Zia Skin Basics
I recommend these brands because most of them are paraben free and more natural. They all have the range of products for you to pick from for your skin type and some specialty products.
For those of you who go to the department stores to shop for skin-care products, these are the lines I recommend to start with, again in no particular order:
• Clinique
• Origins
• Mario Badescu
• Philosophy
• Shiseido

Q: When should I seek the advice of a dermatologist?

A: I believe that a dermatologist should be brought in when all basic skincare has been exhausted and you are finding no solution to your acne situations. They do offer treatments both topical and internal which will offer some help, but you will still have to continue a good skincare routine of washing and moisturizing in order to make the prescribed solutions work.