HoopGurlz

COLORADO SPRINGS -- Usually there are some clear standouts and obvious choices to make any team -- but the USA Women's U18 National Team tryouts were different. Of the 34 girls gathered at the U.S. Olympic Training Center, only a few seemed like sure things going in. That led to a lot of uncertainty during the three days of trials about just what the selection committee might be looking for and to an equally surprising group of 12 who will play in the FIBA Americas U18 championship in Buenos Aires July 23-27.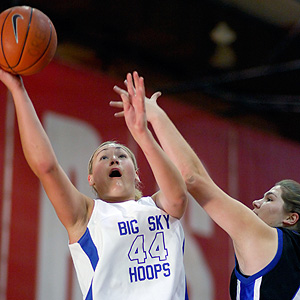 Glenn Nelson
Joslyn Tinkle's selection came as a surprise to some.
The most stunning choice was that of 6-foot-3 Joslyn Tinkle (Class of 2009 -- Missoula, Mont./Big Sky HS), an unknown on the national scene, though ranked No. 7 in her class by ESPN HoopGurlz, who defied the conspiracy-theorist scenario that the teams are picked before they arrive and the big schools and big coaches have the process under complete control. And it wasn't as if Tinkle was dominant; in fact, until the last few sessions, she didn't shoot well, though her fine footwork in the post was evident throughout.
She will be joined in the frontcourt by two players who were expected to be on the team from the get-go: Kelsey Bone (Class of 2009 Stafford, Texas/Dulles HS) and Alyssia Brewer (Tulsa, Okla./Sapulpa HS/Texas). The 6-4 Bone is the prototypical power post; she showed her inside skills in every session. Brewer, at 6-3, is longer, more athletic and more comfortable handling the ball than Bone and could play the 4 or conceivably even the 3.
The selection committee -- Carla McGhee (athlete representative), Beth Cunningham (athlete representative), Sherri Coale (NCAA), Jim Foster (NCAA), Trina Patterson (NCAA), Tara VanDerveer (NCAA), Mary Roonie Scovel (NJCAA) and Wendy Larry (WBCA) -- loaded up on size, as two more tall girls are also on the team. Six-foot-3 Lynetta Kizer (Woodbridge, Va./Potomac HS/Maryland), who had trouble scoring inside during the scrimmages but showed a nice midrange touch, and 6-5 Sarah Boothe (Gurnee, Ill./Warren Township HS/Stanford), who is strong and can finish with either hand, give the U.S. an imposing presence in the paint.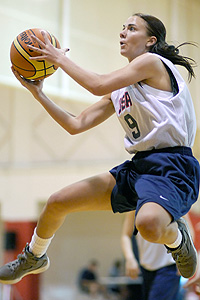 Glenn Nelson
Samantha Prahalis will be a key to Team USA's success.
And don't forget Nneka Ogwumike (Cypress, Texas/Cy-Fair HS/Stanford), a 6-2 power forward who is at her best inside. Ogwumike's length and athleticism, plus her fearless play, add even more power to the American post game.
Yes there are some guards, led by flashy Samantha Prahalis (Dix Hills, N.Y./Commack HS/Ohio State), who plays like a young Ticha Penicheiro (though she shoots better), and smooth Nikki Speed (Pasadena, Calif./Marlborough HS/Rutgers), who ran her teams with more efficiency and control than the 5-foot-6 Prahalis but made fewer forays to the basket.
Skylar Diggins (Class of 2009 South Bend, Ind./Washington HS) showed the best shooting touch at the trials, though admittedly that didn't take much. For whatever reason, good defense, the altitude or just one of those stretches, no one could make a shot, inside or out, in most of the scrimmages. The 5-6 Diggins, though, was an exception, and 5-6 Ashley Corral (Vancouver, Wash./Prairie HS/USC) had some moments when the 3-ball was dropping. Corral and Diggins, though, are a bit undersized at the 2 guard, and this particular dozen doesn't have any big guards.
Kelly Faris (Class of 2009 Plainfield, Ind./Heritage Christian HS) and SheKinna Stricklen (Morrilton, Ark./Morrilton HS/Tennessee) do have size but both struggled to make shots in Colorado Springs, Faris, at 5-9, is a superb athlete who is more of a midrange shooter, but the 5-10 Stricklen has a reputation as a scorer, even if she didn't show it at the tryouts.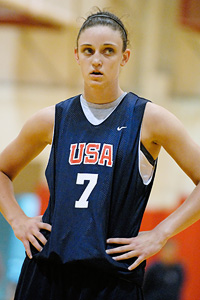 Glenn Nelson
Farris' athletic ability will be an asset for the squad.
Left off the team were highly regarded players such as Tierra Ruffin-Pratt (Class of 2009 Alexandria, Va./T.C. Williams HS), Alicia Manning (Woodstock, Ga./Etowah HS/Tennessee) and April Sykes (Crawford, Miss./East Oktihebba HS/Rutgers), though Ruffin-Pratt hurt the same shoulder she dislocated late in the high school season and didn't play on Wednesday.
But given the format and the realities of international basketball, almost any 12 from this group would have done well enough in Buenos Aires to qualify for the U19 World Championships in Bangkok next summer, as the Americans need only a top-four finish in Argentina to move on. And it's important to note there will be another set of tryouts for that U19 team, which means a player such as 6-8 Brittney Griner will have an opportunity to make the roster for the trip to Thailand, and those who didn't make the team this time around may well get another shot at wearing a USA Basketball jersey.
USA Basketball U18 Team
G Ashley Corral, Vancouver, Wash.
G Skylar Diggins, South Bend, Ind.
G Samantha Prahalis, Dix Hills, N.Y.
G Nikki Speed, Pasadena, Calif.
W Kelly Faris, Plainfield, Ind.
W SheKinna Stricklen, Morrilton, Ark.
F Alyssia Brewer, Sapulpa, Okla.
F Nneka Ogwumike, Cypress, Texas
F Joslyn Tinkle, Missoula, Mont.
P Sarah Boothe, Gurnee, Ill.
P Kelsey Bone, Stafford, Texas
P Lynetta Kizer, Woodbridge, Va.