HoopGurlz at Phila. Front Page News



Alicia Manning claps and celebrates with her Cardinal O'Hara teammates.
CHANDLER, Ariz. -- Bolingbrook and Cardinal O'Hara were the puzzles of the Nike Tournament of Champions.
On the road to the Joe Smith Division's championship game, No. 6 O'Hara bullied past Lincoln (Dallas), No. 36 St. Mary's and No. 25 Regis Jesuit for its spot, while No. 10 Bolingbrook took out No. 24 Riverdale Baptist, No. 23 Chaminade-Julienne and soon-to-be-ranked Oak Ridge.
But in Monday's title game, the O'Hara squad led by six seniors from Springfield, Pa., capitalized on the inexperience of Bolingbrook (Ill.)'s young squad to claim the TOC's Joe Smith Division crown with a 48-41 victory.
"We love our team," O'Hara coach Linus McGinty said after the win. "They've just gotten better every year."
Seniors Alicia Manning and Stephanie Holzer led the way for the Lions with 14 and 13 points, respectively.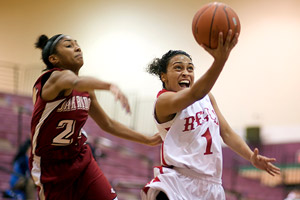 Glenn Nelson for ESPN
Mariah Williams drives to the cup as Kortni Jones defends.
In the third-place game, Regis Jesuit beat Oak Ridge 52-44 behind 15 points from Mary Bokenkamp, 13 from Mariah Williams and 12 from Meghan Winters, all seniors.
In the other Smith Division games, St. Mary's took fifth with a 70-49 win against Chaminade-Julienne, while Wesleyan beat H.D. Woodson 65-53 for seventh. In the 11th-place game, Clovis West beat St. Joseph's Academy 61-51. Long Beach Poly beat Bishop McGuinness 73-40 for 13th and Christ the King claimed 15th with a 69-43 win against Lincoln.
From here, the Lions head home to Pennsylvania where TOC team Archbishop Carroll, which took fourth in the Mike Desper Division, awaits its league rival Sunday. Bolingbrook plays again Jan. 3 against No. 2 St. Michael Academy in a tournament in Ohio.
The senior-laden squad for O'Hara had enough confidence and experience to survive a late 18-6 run which brought Bolingbrook and sharp-shooting sophomore point guard Ariel Massengale to within three at 44-41.
For Bolingbrook, which survived on late comebacks more than once in the TOC, it was too little, too late with key misses in the final minutes by the Raiders, and O'Hara hitting 4-of-7 from the line in the final 37 seconds sealed the win.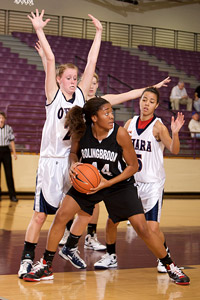 Michael Campbell/Special to ESPN
Morgan Tuck is swarmed by a defense that focused in on her.
"(Early), we didn't want to take the basket like we know we could have and should have," said Massengale, who led the Raiders with 18. "This tournament has shown us what we can do and what we need to work on."
"The girls come out when their backs are against the wall," Bolingbrook coach Tony Smith said. "We need to find a way to turn that on earlier in the game."
Freshman Morgan Tuck, a force inside during much of the tournament, was held to 10 for the Raiders as O'Hara's box-and-one defense effectively quieted her game.
Both teams struggled with shooting early, as Bolingbrook led 7-6 at the end of the first quarter, but O'Hara kept at it and scored 15 in the second quarter, pulling out to a 10-point halftime lead.
"The biggest thing is we pick each other up," Manning said. "No one keeps their head down because you have four other girls on the court, and the girls on the bench, all telling you to keep your head up."