HoopGurlz at Phila. Front Page News


Michael Campbell/Special to ESPN
Taylor Spears is one of the dozen contributors for Mater Dei.
CHANDLER, Ariz. -- Seeing how Mater Dei High School, from Santa Ana, Calif., went about dismantling all opponents in the Mike Desper Division of the Nike Tournament of Champions, its 22-point victory in the championship seemed almost pedestrian.
Mater Dei's 63-41 victory in the championship game over Bishop Gorman High School from Las Vegas, Nev., was the closest point differential the team experienced all tournament. It opened the event with a 25-point win over St. Mary's of Phoenix, then trounced Highlands Ranch (Colo.) by 49 and beat Centennial from Las Vegas by 32. The newsflash here is that these are all good teams. Bishop Gorman features one of the top junior point guards in the nation in Aaryn Ellenberg who scored nine points and Northwestern signee Dannielle Diamant who led the team with 11 points.
"We were very surprised," Mater Dei head coach Kevin Kiernan said of the teams' margins of victory throughout.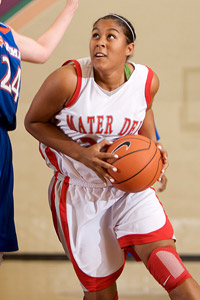 Michael Campbell/Special to ESPN
Kaleena Mosqueda-Lewis attacks for Mater Dei.
The Monarchs shot out to a 21-9 lead in the first quarter against Bishop Gorman in the final. Sophomore scoring sensation Kaleena Mosqueda-Lewis sat most of the second quarter with two fouls and the lead at half remained at 12, but a 17-6 third quarter all but sealed the deal for Mater Dei.
Mosqueda-Lewis scored six points in the decisive third period while senior Kathryn Haugen added five and junior Alexyz Vaioletama chipped in four points.
Individuals aside, Mater Dei does its damage with suffocating defensive pressure which was one of Kiernan's trademarks while building Troy High School into a California and national powerhouse.
"Well we practice really hard," Kiernan said. "Our goal as a coaching staff, and it was when I was at Troy High School, is that practices are way harder than the games. I mean we practice defensively -- 70 percent of our practice is defense, and the young kids are buying into it."
The team suited 17 players for the tournament and uses as many as 13 in its rotation while pressuring the length of the floor most of the game.
"I thought all the kids that came off the bench made a positive statement," Kiernan said. "What we're working on is incorporating a lot of people into the game and keeping everyone interested. If we had a seven-man rotation or eight-man rotation we'd have a lot of unhappy kids on the bench so our biggest thing is ... keeping everyone together and we're all in this together and they're learning."
That depth was a decided advantage for a team playing four games in five days. That schedule is not common during the winter high school season. But with that depth the Monarchs actually didn't want a day off.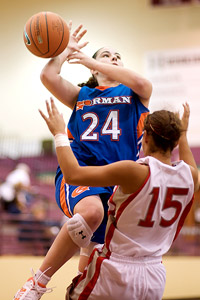 Glenn Nelson for ESPN
Lauren Rock (15) tries to take a charge on Chelsea Pitt.
"We felt the day off yesterday kind of hurt our momentum a little bit," Kiernan added. "We knew we had to take it off, but we can play 12, 13 people if we have to and we don't drop that much. We want to wear people out. We don't get worn out; we're in pretty good shape."
Though many know Mosqueda-Lewis, arguably the nation's top sophomore, there is a lot more to this team than just one player. For starters the team has a freshman running the point in Jordan Adams. She was as poised as any lead guard in the tournament. In the frontcourt Viaoletama, a sophomore, plays much bigger than 6 feet 1 and Cal State Fullerton signee Mya Oliver comes off the bench for Mater Dei. The talent on the roster is impressive and the team's only tangible limitation is youth. In the immediate future the Monarchs will find themselves ranked among the nation's elite after their performance here.
Mater Dei's next real test could come on Feb. 6 when it plays host to Cajon High School (San Bernardino, Calif.). Cajon won this very same bracket at the TOC just one year ago and features two players, Layshia Clarendon (Cal) and Darshae Burnside (Arkansas), headed for Division I programs after this season.
"Again, are we mature enough to keep (the ranking) there, like a Cardinal O'Hara team?" Kiernan asked. They look very mature, where we look talented and full of promise but we could come out tomorrow and melt down."