HoopGurlz at Phila. Front Page News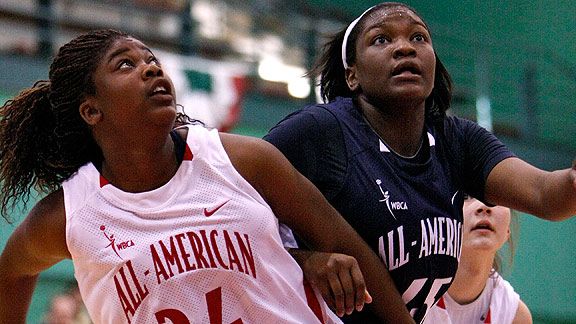 Mark Lewis/ESPN HoopGurlzMonique Oliver (front) and Cokie Reed battle for a board at the WBCA game.
ST. LOUIS -- Most people will agree that your dreams are best just before you wake up. If the WBCA High School All-America game presented by Nike would have been a dream, that analogy would have fit like the latest pair of Air whatever from the swoosh folks.
A close, but ragged game finally got interesting at the very end as the White team, led by some floating Skylar Diggins shots, kept the game within one or two possessions down the stretch. The game's final minute took about five minutes to play with the inevitable intentional fouling and the Blue team's failure to put the game on ice from the line.
Ultimately, Diggins had the ball with her team trailing by three but Tayler Hill's heady foul with three seconds remaining prevented the Notre Dame-bound star from getting off an attempt behind the arc. Diggins buried the first free throw, however her intentional miss on the second failed to draw iron giving possession back to the blue team who ran out the clock on the ensuing inbound play.
The winning Blue team was led by MVP and ESPN HoopGurlz No.1 ranked Brittney Griner. The 6-foot-7 Baylor-bound post scored 20 points, grabbed nine rebounds and blocked eight shots for the game. Her 9 of 15 shooting performance was one of only two players who shot over 50 percent from the field for either team. Taber Spani and Tayler Hill added 10 each and Destiny Williams was one point shy of a double-double with nine points and 12 rebounds.
Diggins, the ESPN HoopGurlz third ranked player in the 2009 class, was named MVP of the white team. She tallied 24 points, five assists and five steals in a losing effort. Monique Oliver, No. 6 in the class and headed to USC, contributed a double-double with 14 points and 13 rebounds while Kelsey Bone, No. 2 and recently committed to South Carolina, finished with nine points and 13 boards of her own. UCLA-bound Markel Walker, ranked No. 4 in the class, added eight points and 11 boards.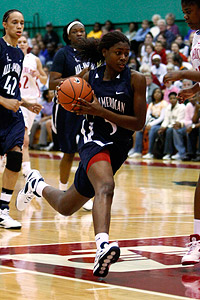 Mark Lewis/ESPN HoopGurlz Destiny Williams will be headed for Illinois next season.
While the game was competitive from start to finish and stayed tight in the scoring column, play was typical of All Star events. Both teams struggled throughout the game, shooting a combined 60 of 175 from the field and registering 46 total turnovers. The low shooting percentages provide plenty of rebounding opportunities with both squads pulling down over 60 boards each.
WBCA All Star Fab Five
Anything written about Griner at this point may be redundant, but a few things are appropriate and bear repeating. It's a given that the Houston native is an impact player and it's obvious that she brings some things to the floor that the women's game has not seen to date. It's important, however, to remember that there is work to be done and skills to be refined. The potential that is there is extraordinary and no doubt Baylor coach Kim Mulkey and company will challenge Griner to find just how far it can ultimately take her and the Bears. If and when her basketball skills catch up with her physical skills, saying that the sky is the limit may be an understatement.
The fact that Diggins continues to improve on almost a game by game basis should allow Notre Dame coach Muffet McGraw to sleep well at night. It might cost the Irish opposition some sleep but the faithful in her hometown of South Bend, Ind., are going to continue enjoying something rare. The maturity she plays with at this point in her career is advanced well beyond her age and her instincts are the kind that cannot be taught. She has the ability to create both shots and passes off the dribble and has the stroke to force defenders to close out and play her honestly -- basically, a nightmare matchup. Diggins is the kind of player who you want to have the ball in her hands when things are on the line and even better; she wants it, too.
Oliver isn't the biggest, the fastest or the strongest post out there. She's not the most skilled or versatile either, but you won't find many coaches who would pass on the opportunity to have her in their uniform. What USC head coach Mark Trakh and the Trojans have in the Long Beach, Calif., product is one of the most relentless players on any court. She does have good size, strength, and athleticism, but that's not what sets her apart. Her approach is assertive at both ends and she produces results time and again. She rises to challenges and just may be one of those players who plays big in big games.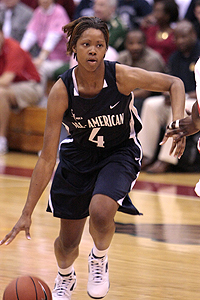 Mark Lewis/ESPN HoopGurlzTayler Hill is far from ordinary when she puts the ball on the floor.
Hill may not have made up her mind yet as to where her basketball future will play out, but anyone who has watched her play has pretty much made their mind up about her. Whether she chooses to stay home in Minneapolis with the Gophers of head to Texas out of state, she's bringing one of the most fluid and versatile backcourt games in the 2009 class. Watching her with the ball in her hands brings to mind one word -- smooth. What allows her to attack so effectively though is her touch and range that forces defenders to stay tight. The athleticism is there but it just doesn't look explosive, but looking at the defenders she's blown past and you know without a doubt that it is.
Bone made a lot of folks happy in Columbia, S.C., last week with her decision to attend South Carolina. She made a lot of folks in the Big 12 happy as well as she passed on the opportunity to stay home and torment folks while wearing an A&M uniform. The Stafford, Texas native doesn't have a little of everything, she has a lot of it. The size and frame are imposing. The strength is daunting and the speed is somewhat surprising. Her continually evolving game has a lot of everything as well. Her scoring options go beyond a drop step on the block and her repertoire even allows her to shoot from the perimeter now and then. It's a safe bet Dawn Staley will keep her home down low the majority of the time but the newest Gamecock will force the interior game of other SEC teams to pay attention from day one.
Notes -Hill down to three
The game's only uncommitted prospect, Tayler Hill confirmed to ESPN HoopGurlz that her list is down to three schools and that she intends to make her decision by midweek after she returns home from the Final Four. The programs remaining in the running for the talented Minnesota native, ranked No. 12 in the class, are Minnesota, Ohio State and Texas.