HoopGurlz at Phila. Front Page News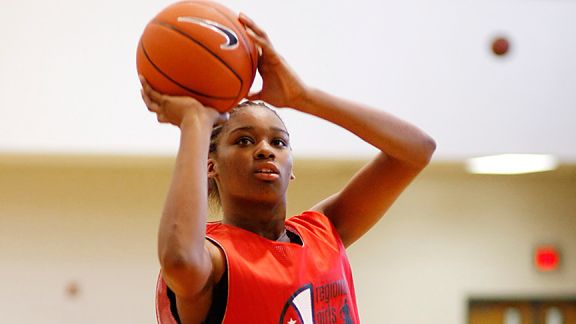 Rachel Hollivay pulls up for a jumper in Atlanta.
NORCROSS, Ga. -- Youth was the word for the weekend as the 3rd annual Nike Regional Skills Academies got underway Saturday and Sunday at Norcross High School. While past years have included next year's high school seniors, the first of five separate 2009 events featured a roster with no upperclassmen, welcoming players only from the classes of 2011, 2012 and 2013.
Nike Girl's Elite Youth Basketball Manager Mary Thompson likes the idea of exposing players to intense, high level skill work at a younger age.
"The earlier that they can experience this type of instruction the better off they'll ultimately be in the long run with their skill development," Thompson said. "Additionally, you have to hope that they'll take this kind of work ethic and workout back home and it will prove to be contagious with their high school and club teammates."
As in the past, all on court instruction was headed up by renowned basketball skill instructor Ganon Baker. Like Thompson, Baker also likes the opportunity to get a younger group on the floor.
"This group was very young, but very talented as well," Baker said. "At this age it's tough for them to maintain an edge and develop the retention they'll need to apply what they've learned, but the earlier we can get them the better off they'll be."
Joining Baker on the floor was former NBA standout Dee Brown. Brown is the owner and president of The Edge Basketball Training Facility in Orlando, Fla. The father of a 13-year old daughter who plays herself, Brown thinks this age group is a critical time to expand a developing athlete's skill set.
"The biggest transition isn't from high school to college or even from college to the professional level, it's from the 8th to the 9th grade," Brown said. "They're young and they're talented but this is the time that they have to begin to understand that just playing five-on-five isn't enough."
Six different southeastern states were represented among the 40 participants this past weekend. The remaining four regional events will be held in Santa Ana, Indianapolis, Philadelphia and finishing up in Dallas the last weekend in May.
Youth and potential usually go hand-in-hand and a little of both were on hand here in Atlanta. With the majority of all four workouts focused on skill work and only a limited amount of actual playing time, a lot of the intangibles were on display. Focus, intensity and effort are a staple of a Baker workout and several athletes found the experience to be quite an eye opener. Here's just a few of the participants who caught our eye this weekend.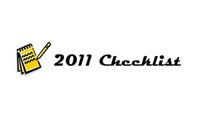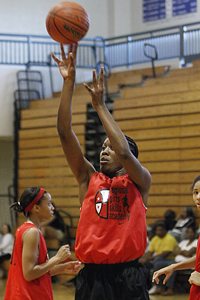 Kayla Brewer lets it fly in drill work.
Easily one of the more impressive athletes on hand was Florida native Kayla Brewer. Her long, lean build is highlighted by a reach that adds even more to her imposing presence. The 6-foot-2 wing out of Ribault High School in Jacksonville has both the size and skills to be a force on the wing. She can create off the dribble and has the physical strength to finish in traffic. There's good form on her perimeter shot but her shot selection is occasionally questionable. She has the lateral foot speed to guard smaller, quicker backcourt opponents but the size to match up at the forward spot if necessary. If both her physical and basketball skills are maximized she can write her own ticket.
If you're looking for explosive guards, Atlanta's Briana Banks is going to catch your eye. The left hander from Northgate High School can create moments at both ends of the floor that leave opponents standing in their footsteps. She's smooth with the ball in her hands and has the ability to get to the rim or pull up with an impressive jumper. Defensively she anticipates well and has the ability to turn a ball handler which is difficult to find on the high school level these days. The question mark in her game is consistency. It's not that she plays bad but that she has moments where she's not really contributing. What really makes it noticeable is the fact that her good moments are so strong. If she's making an impact from tip to buzzer opposing coaches are going to lose sleep.
Danielle McCray may play single-A high school basketball at home in Florida but her game has the potential for the opposite end of the spectrum. The 6-0 athletic wing has the size, build and athleticism to get up and down the floor with almost any opponent. Her one-on-one skills allow her to create her own scoring opportunities as well as force defensive rotations leading to some impressive passing. Adding to that is her ability to shoot the short pull up as well from the 5- to 10-foot range. She's active defensively and has the potential to be a solid stopper. There will have to be a physical aspect added to her game but she plays with an aggressiveness that suggests that won't be a problem.
The wing position at the college level has been an evolving position over the last few years and Morgan Jones may fit the latest definition to a tee. She's got good size at 6-1 and solid athletic skills that give her both strength and speed. In transition may be where she's at her best with the ability to handle the ball in the open court as well as a willingness to get out and fill the lanes. The Altamonte Springs, Fla., native is sound from the perimeter and she has the moves to create her own shot in half-court sets but ballhandling here could be sharper. She's willing to mix it up defensively and is usually a factor on the boards. Effort is never an issue.
Connecticut's Maya Moore may be setting a new standard for versatility on the college level and she's got a sister in arms doing the same thing in the high school ranks. North Carolina resident Cierra Burdick has the tools to be effective at almost any spot on the floor other than posting on the low block. Not that she couldn't at 6-2, it's just that she offers too much elsewhere on the court. She has the perimeter skills and court instincts to create both her own shots as well as passes leading to scoring opportunities for her teammates. She can impact a game in transition by handling the ball or running the floor. In the half court she penetrates while reading defenders and demonstrates good decision making skills. One decision she may want to rethink is her willingness to give the ball up quite so easily. She'll need to be more of a constant threat to keep defenders honest now that she's an established target.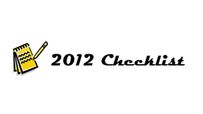 Georgia's Andraya Carter has the tools to be effective at both the point and the shooting guard spots. The 5-9 Buford High School product has the versatility to score effectively herself or to set up her teammates with high percentage looks. Her lean build doesn't keep her from making plays and scrapping with anyone out there. She handles the ball well but is just as effective without it in her hands on the cut. Her jumper is just that, a true jump shot with good elevation. Beyond her fundamentally sound game and impressive athletic skills is a relentless effort and focus on every possession.
Rachel Hollivay may call Mississippi home and play club ball in Florida, but she certainly left her mark in Georgia this weekend. The 6-4 forward is smooth and fluid in everything she does and has the wingspan of something from Boeing. She posts effectively both on the block or flashing into the paint and is effective finishing on the catch. Her jumper has a little forward motion in it but is still a threat for her if given the look. She can put it on the floor some and, with her mobility and size, she becomes a tough match up for opposing bigs. That same size and her reach make her an intimidating defender and she's not hesitant to get physical on the defensive end of the floor.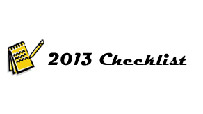 Going into her third season of varsity basketball next season, Makayla Epps is an old pro for someone who has yet to enter her freshman year. The Kentucky native and Marion County High School star has the maturity and court concepts of someone much more experienced which makes her future all the more promising. A true point guard at 5-6, she's got impressive quickness and speed as well as the ability to get off the ground. She has an attacking mentality and constantly forces defenses to rotate on her penetration. Her pull up is an effective weapon but settled for too quickly at times. There's range on her perimeter shot that forces defenders to close the cushion ultimately leading to even more penetration and long nights for the opposition. Size could come into play somewhere down the road but the skills and athleticism already in place minimize the problem it might become.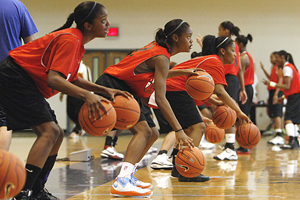 Mark Lewis/ESPN HoopGurlzFrom left: Diamond Deshields , Kaela Davis and Antoinette Bannister work on their handle.
It may just be simpler to list what Kaela Davis might be missing rather than to try and explain the tools and potential that are making college recruiters drool over someone who has yet to put on a varsity uniform. When you consider she has the size, build and athleticism of someone several years older and a skill set that makes the 6-2 Georgia resident a true perimeter threat, it's hard to imagine just what might be missing. Experience, maturity and maybe some physical strength come to mind but you have to figure some of that will simply come with age. In the meantime consistency on her perimeter shot will have to evolve as well the commitment to be just as effective on the defensive end as she is offensively. Scary part there is that she's already a pretty good defender. Keep watching; it's going to fun.
Diamond DeShields can be as good as she wants to be-- period. While just now completing the eighth grade, the 6-2 standout for the Georgia Ice already possesses the attributes that will allow her to take her game to any level if she's willing to pay the price. The physical gifts and the basketball skills are there but it's hard to see the focus yet in a player so young. The consistency of effort and intensity will be keys for her each time she takes the floor in both workouts and games. She has a crossover that would make Kobe proud with the ability to get into the paint as well as the stroke to connect from the perimeter. Her size and foot speed make her potentially a lethal defender matched up in man or especially in the press. If she pushes the limit it could be something to see.