Burdick's best attribute can't be taught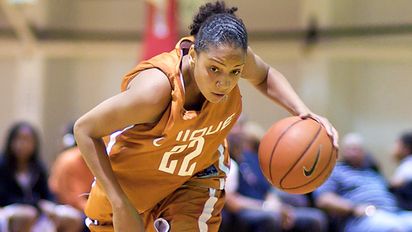 Glenn Nelson
It seems like Cierra Burdick is always going full speed.
Over the next three days, HoopGurlz will be making the case for North Carolina's Cierra Burdick, California's Kaleena Mosqueda-Lewis and Virginia's Elizabeth Williams to be the No.1 prospect in the class of 2011. The complete list will be released on Thursday.
It's the heart for Cierra Burdick. Some 14 years ago, they cracked open her chest and seemingly inserted a plutonium power plant. Since then, her heart has pumped harder, allowing Burdick to push herself further.
"I can't keep her off the court," said her club coach, James Nichols of the D.C.-based Team Unique.
"Sometimes I feel like I have to sit on her for her to be still," said her mother, Lisa.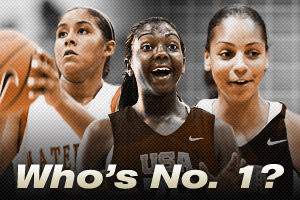 Kaleena Mosqueda-Lewis, Elizabeth Williams and Cierra Burdick are vying for the top spot in 2011.
Burdick has things to do and places to go. One of those places is the top of the charts. She unflinchingly said she wants to be considered the top prospect in the 2011 class.
On her way to such a lofty destination, Burdick clearly has followed her heart. And it has led her to the junction of Magic Johnson and Lamar Odom -- two Lakers with size and multiple skills whose NBA careers took divergent paths. According to both her and her coach, she must take a leap of faith off the precipice into greatness.
Like the aforementioned Laker stars, Burdick, at 6 feet 2, has size, plus a rare combination of explosiveness, condor-like wingspan, the big-three offensive skills (dribble, pass and shoot) and instincts. It's a package USA Basketball recently embraced, naming her to its U16 national team. But her heart sometimes stops her at times from making her team great.
"People keep telling me that I'm too unselfish," Burdick says. "They say I need to get used to being more selfish and that will help my team be better."
Nichols said, "Part of having that assassin's mentality is knowing when to take over. When your coach doesn't have to tell you to take over, that's when you're a great player. That's what we're challenging her to do. We're giving her a full workload on the science of being dominant."
Burdick's natural order of things is not necessarily to retreat into self, but, overridingly, to work harder. This is a place, of course, to which her heart also has tugged her.
Her daughter was not quite two years old, when Lisa Burdick hauled her to the doctor because of an ear infection. An ultra-sound examination revealed something worse -- atrial septal defect (ASD) or what commonly is referred to as a "hole" in the heart, the septum being the wall between the critical muscle's right and left chambers. Undetected, the condition can be fatal and is believed to be the cause of many sudden deaths of some very athletic people.
"I was being a paranoid mother," Lisa Burdick recalls. "It wasn't a complicated routine (to repair the tear) but it was really scary. It gives me goose bumps to think about it."
Doctors told Burdick the repaired heart could actually be stronger than a normal one. As if to test this theory, or make up for what could have been lost time, Cierra Burdick was plunged into a number of activities, imprinting her with a busy, energetic approach to life. By the time she was five, she'd tried tee ball, soccer, drama, swimming and the Brownies.
What stuck was basketball, but no one knows why. Burdick has size and athletic genes from her father's side, but her father, Derrick Heard, is a marathon runner.
Burdick attacked the sport like a marathon. She played and played and played, picking up this here and that there. So, at 6-2, she handles and passes the ball like a guard, gets low instinctively and attacks her defender off the bounce. Burdick rebounds well and knows her way around the low boxes, even goes old school with the sky hook she says she models after Kareem Abdul-Jabbar's and learned from her brother, Tim Fields. "At my size, I know I need to be versatile," she said.
Nichols has coached 23 high school All-Americans in 10 years and said Burdick has the opportunity to be the best one of them all. The difference between her and the others is that the others' mindset was, "Let's do this!" Hers is more, "Let's see what's happening."
Oftentimes, Burdick sees plenty happening and wants in. Her frenetic pace even includes another sport, track, where she took a North Carolina state championship as a freshman, going 5-6 in the high jump. At night, she often takes ice bathes to help her body recover.
Fatigue is not an option. Any time Burdick slows, the voices prod her to speed back up.
"I don't think I ever get a break," Burdick says. "People are always yelling at me. But I also want people to ride me. I like to be pushed. I want to be the best."
If heart were the main criteria, Burdick would be a shoo-in. After all, hers is plenty battle tested.