HoopGurlz at Phila. Front Page News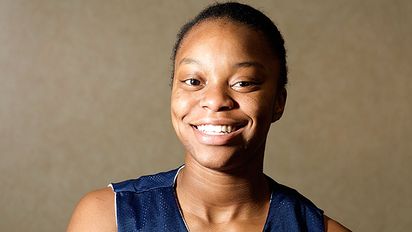 Odyssey Sims chose Baylor over LSU and Tennessee, among others.
She's a 5-foot-8 lefty who has worked on her right-hand skills and her on-ball, lock-down defense is now second to none. The speedster from Irving, Texas, also moves even more quickly from one end of the court to the other, most often with a steal turning into a layup or smooth outlet pass.
A lot has changed for Odyssey Sims since last summer, and her biggest progression can be seen with or without a ball safely tucked into one hand. The feisty guard has always been all business on the court, but now her business includes captaining the ship, including the one currently known as DFW T-Jack Elite.
"She's learned to mesh her leadership role with her playing role," mother Pamela Thompson said. "She's taken on her leadership role more aggressively and positively."
Sims' on-court play was strong to begin with, earning her the No. 9 spot in the ESPN HoopGurlz Super 60 for the 2010 class, but now Sims' focus also extends to the team, and not just her T-Jack teammates.
At May's Midwest Showdown in Ohio, the rising senior point guard was seen toting the team's ball bag as the DFW squad maneuvered to one of the far courts to watch and support one of the program's younger teams. While many of the girls sat behind the bench, paying partial attention while lacing up shoes and adjusting wraps and socks, Sims found an open seat on the bench. She cheered on the younger squad and, at times, offered guidance and direction to the players on the floor.
"It's a habit," Sims said. "It's like I have a little sister I'd go support; we look at each other like we're all family. We've all got to support each other."
As maturity comes with growing up and getting older, experiences also can affect attitudes and perceptions, especially in sports.
With a strong core of teammates and Alexis Jones, a budding 2012 star in her own right, joining Sims in the backcourt at Irving MacArthur, the Baylor commit has learned to allow others to do their jobs on the court. She doesn't stand back and watch, instead pointing and sending them in the right directions, as any good point guard should.
"A lot's changed in her game," said Jones, who also plays with Sims in the DFW program. "She's a better team player. She knows she has a great team and she knows how to use them. She's learning from the team as we're learning from her."
Sims spent last summer on the star-studded T-Jack squad that breezed through nearly every team and tournament it faced, but this year's squad -- the homegrown, all-business model -- has a very different feel. With the roster entirely from Texas, the girls have practiced during the spring and, for the most part, all saw each other during high school ball. But this year's squad isn't 12 girls trying to become best friends. They walk into the gym with a purpose and approach tournaments as a business trip.
"We don't have any distractions," Sims said. "We talk to each other, but when I'm putting my shoes on or we're warming up, I'm in my zone just trying to get focused. It helps to be more focused on the game."
T-Jack coach Daryl Horton is a big part of that approach. He doesn't want the girls to goof off and be silly before the game, so that it doesn't take away from their in-game focus. Sims is at the heart of that pre-game focus, working through a routine and also getting everyone together just before the game.
"I think this year, really for the first time, she really feels like a leader," Horton said. "It's her team and she really is doing a great job with the leadership."