HoopGurlz at Phila. Front Page News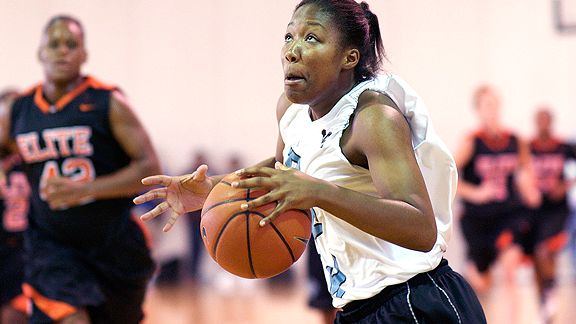 Kristen Grant is the second player from the 2010 class to land with Texas A&M. The Arlington, Texas native chose the Aggies because of their veterinarian program, among other things
All the pieces fit just right for Kristen Grant. She got along well with the coaches, the campus is the right distance from home and the academics are right.
So the 5-foot-9 guard from Arlington, Texas, didn't feel like dragging out the process any longer than needed. Shortly after the July evaluation period ended, Grant called her soon-to-be head coach, Gary Blair, with the good news: she is going to be an Aggie.
[+] Enlarge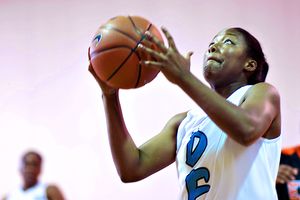 Glenn Nelson/ESPN.comHaving her family be able to watch her play was a big reason why Kristen Grant decided to pick Texas A&M, which is three hours away from her home.
Grant is the second Texas A&M verbal of the 2010 class, joining fellow Texan Karla Gilbert, a 6-4 post out of Houston.
"There's a lot that went into the decision," Grant said. "I've built a great rapport with the coaches and the players, it's close enough when I want to come home and they've got a great veterinary program."
Grant, who lives about three hours from the A&M campus, also considered Duke, Northwestern, Texas Tech, North Carolina State, Oklahoma, Southern Methodist and Texas Christian. She visited all the schools with the exceptions of Northwestern and North Carolina State, including two visits to Duke.
"We tried to let the decision be hers," father Anthony Grant said. "As a family, we were really looking at the total package. We wanted a good basketball program, but basketball wasn't the end of it for us."
In the end, one of the major factors was Kristen Grant's longtime interest in becoming a veterinarian. Texas A&M has a strong veterinary science program, ranked among the top in the country.
A bit of familiarity helped, too, as Grant knows a number of the players on the Aggies' roster from club basketball, either as former teammates or opponents.
The whole recruiting process was a family affair for the Grants. Kristen's father went to every visit with her and her mother attended most of them, as well. The decision to play three hours from home made for a bit of happiness for all involved.
"She wanted us to be able to see her play," Anthony Grant said. "It's only three hours, we'll be at as many games as we can be."
Her older brother, a rising senior at Baylor, is also close enough to attend games.
With the college decision out of the way, Kristen Grant can now focus on getting ready for her senior year, which starts in three weeks.
"It's a big relief to have made my choice," Grant said.