HoopGurlz at Phila. Front Page News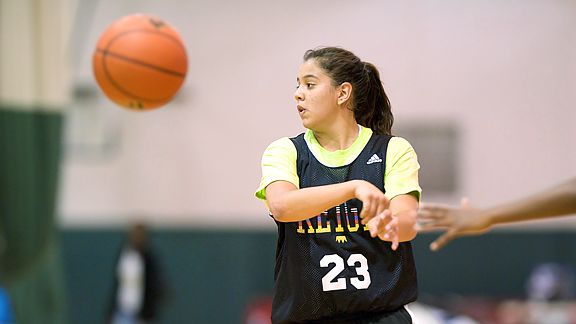 The Best of Summer series rolls on by breaking down the top passers and ballhandlers. Shoni Schimmel is one of three that made the cut in both categories.
Coaches across the country wish dime-droppers were a dime a dozen, but the truth is the skilled passer is a rare prospect. The skill nearly is lost as the game continues to move towards offenses that isolate a team's best players to go one-on-one or ideologies gone awry, none worse the misapplied Memphis dribble-drive motion offense.
Perhaps this summer's success of the Cal Swish -- one of the best passing teams on any circuit -- will refocus some coaches at the youth level on the importance of good passing. What good is driving and dishing if the ball misses the shooter? Ask a wing who gets a lot of her offense in transition about the value of a good passer at the point guard position.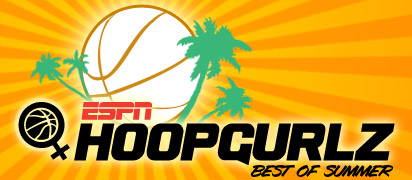 A great passer makes average players major weapons, if they can simply catch the ball and make uncontested lay-ins. They can also make a one-dimensional set shooter look like a candidate for all-conference honors.
But the focus of developing great ballhandling skills is far from misplaced. Any good passer knows that you have to get to the right spots on the floor to find the best passing angles, be it in transition or in the post.
Great ballhandlers are not one size fits all, either. Few can entertain us with ankle-breaking moves without dominating the basketball and hurting her team. Some may not have jaw-dropping shake, but are incredibly efficient and can get to any point on the floor at any time.
What is certain is that great ballhandlers can change direction and speed on cue. They can do both multiple times in small spaces and under extreme duress. Mastering the manipulation of the ball is one of the most important skills in the game. Put the handle with the passing ability and you have a coach's dream.
It is rare that a player at the high-school level captivates audiences with her passing ability. On the women's side of the game the most notable player in that regard is Ticha Penicheiro, who plays for the Sacramento Monarchs in the WNBA. Schimmel may be the next and, like Penicheiro, she has good size for the position. She measures just an inch shorter than Penicheiro at 5 feet 10, but has all the flare.
Schimmel is one of those passers who sees at least a play ahead and knows how to set the defense up. She undoubtedly will have a better assist-to-turnover ratio in college with players that will get used to being ready at all times for a Schimmel dime. She does her thing in all situations on the court and she will even sling a 65-foot baseball pass without looking and put it on the money. In the half court, she sees the defense, lulls it to sleep with some fancy dribbling then zips the ball right by them to a slashing teammate.
Another fantastic passer is recent Duke commit Gray. While nobody is as flash and dash as Schimmel, Gray is a close second. She too seems to enjoy the no-look assist more than scoring the ball. Her skill is not all show, however. She is another big point guard and uses her size to aid her passing in dribble-drive situations. Harnessed in a drive-dish-shoot offense in high school there are few that can set up a shooter as well as this rising senior.
While there is something to be said for the exciting pass, the SportCenter moments aren't what make a good passer. Four of the players cracking our top passers list fall into the efficient and effective style of player. Cook, Kestler, Kokenis and Standish are all floor generals that have a passing answer to almost every situation though their games have decidedly less hot sauce. Kenney is a hybrid who makes the highlight dish as well as the efficient one. She also never forecasts where she is about to deliver by locking on recipients.
Two players stand out for their ability to make passes at high speeds -- Adams and Delgardo. Both have some funk to their games, but they are at their best running the break. They make good decisions and deliver the ball where their teammates can easily convert.
Most of the players in this category are point guards or combo guards, all of which have the ball in their hands on most every possession. The exception is Greenfield of Huxley, Iowa. She is a 6-3 wing-forward with a high level of skill in all the fundamentals of the game. She delivers one of the best post-entry passes, but what's more impressive is she knows when not to make those passes. It is rare to have this kind of passing ability in a player her size.
Much like the varying styles of passers, there are different molds of solid ballhandlers. There are those with style, those with substance and the best of which combine personal flavor with effectiveness. Now some of our top handlers do have moments when they waste a lot of motion in the name of fun, but it doesn't diminish the great things they do with the ball.
Ballhandling is measured in a lot of different ways, one of which is a player's breakdown ability. The best breakdown players manipulate the ball and their bodies within their moves. Some call it shake or shift, but it's there in mass with our top handler of this summer, Coffey.
Others joining Coffey in the shaken, not stirred category of top ballhandlers are Jefferson, O'Neil, Thompson, Cropper, Schimmel, Hartley, Ransford and Davis.
With two healthy legs to run on and push off of by July, Jefferson may be the best of the bunch at creating space and being nearly impossible to keep in front of. The only thing separating her from Coffey would be physical strength.
Creating shots with handle is a part of that breakdown ability and Ransford is among the best at it, as are the trio of New York guards on the list Cropper, Hartley and O'Neil and Metropolitan guard Tay.
One of the shiftiest players in the group is also one of the youngest in Thompson. She continually bated overzealous defenders into going for a steal or jumping one side of her. With every lunge the defender usually found nothing but air.
Orrange is another player with incredible shift and shake to her game, but what makes her so effective with the ball is her incredible balance. Even though she's not the strongest kid on the court, she can take the bump as well as guards outweighing her by 30 pounds because she maintains balance and control of the ball no matter how aggressive the defender is or how liberal the officials let them be with her.
Goodwin and Kenney make the list by combining some flavor with solid fundamentals. With the ball in either of their hands a turnover is a rare sight. They know where to go with the ball, how to relieve ball pressure and how to create space with the ball.
What is certain is that to play at the highest level being multi-dimensional with the ball is a must.