HoopGurlz at Phila. Front Page News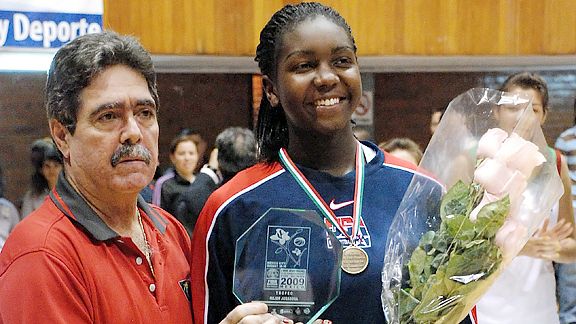 With the first ever USA Basketball U16 National Team competing in Mexico City, Elizabeth Williams and Co., pushed the team to gold and a spot in next summer's U17 World Championships.
Not everyone gets a chance to be part of a country's first, but the USA Basketball U16 team laid claim to two on Friday.
After a 103-52 defeat of Canada, the USA team claims the country's first U16 gold medals in basketball by winning FIBA America's first U16 tournament in Mexico City.
"That was something we'd talked about as a team and the girls really latched on to," coach Barbara Nelson said Friday night by phone. "Getting the opportunity to be FIBA America's first U16 gold medalists and not only that but the first USA U16 team to win gold? It's a great experience for the young ladies."
It was quite the week for the USA team, as it won Group B with convincing victories against Argentina, Puerto Rico and the Dominican Republic before a semifinal win against Brazil and the championship victory versus Canada. In each win, a different player stepped forward to lead the USA team while nearly everyone scored as USA averaged 108-plus points per game.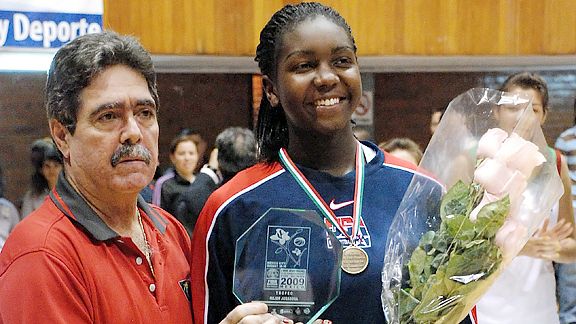 Elizabeth Williams is awarded the tournament MVP at the FIBA Americas U16
tournament in Mexico City.
"We focused on defense, which we talked about for every game,"
Elizabeth Williams
said. "We just picked it up and dominated."
With the championship, USA qualified for FIBA's U17 World Championships in France next year. Canada also qualified, as did Argentina, which finished third.
Williams, who garnered tournament MVP honors, led the charge against Canada, scoring 19 points and grabbing seven rebounds, while four other players scored in double digits. Justine Hartman scored 14 points, Betnijah Laney added 13, Kaleena Mosqueda-Lewis posted 12 and Jordan Adams added 10. Nirra Fields led Canada with 12 points.
"There was a pretty big USA crowd," Williams said. "And eventually we got a lot of the other teams to cheer for us, too."
Canada hung with USA early, as Team USA finished the first quarter with just a seven-point lead, but USA outscored Canada 29-9 in the second quarter. The USA's suffocating defense allowed for the blowout final score by forcing 28 turnovers, while an equally dominating 80 points in the paint made for a proud coach after the final buzzer.
"We were really able to use our size and ball movement to run to floor," said Nelson, who coaches at Wingate University. "Elizabeth Williams and Breanna Stewart were really just dominating in the paint all week, but we had different heroes every night and tonight was no different. I'm really proud of them."
Off the court, the girls also got quite the life experience, getting a chance to visit an open-air market where they could test their bartering skills, going to local restaurants and taking in other games during the tournament. All eight teams stayed in the same dormitory and, despite multiple languages spoken, were able to communicate and bond during their week in Mexico City.
"It's amazing how the young people could get past the language barriers," Nelson said. "The girls really developed bonds across the borders, especially with the team from Brazil, even though none of them spoke Portuguese."
Learning to break language barriers was just one more first for many of the girls, adding to their list from a successful week of international competition.