Hoop Gurlz At Phila. Front Page News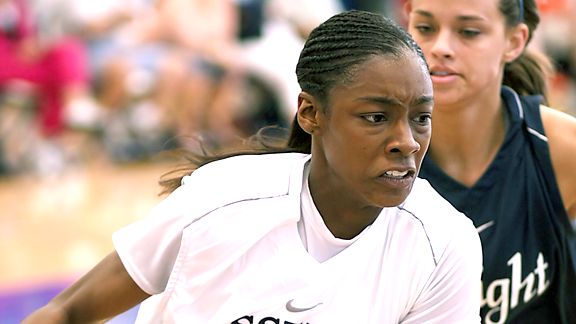 Banks Ready For Huskies
Brianna Banks hears her doubters and she turns the comments into motivation to do what the say she can't and her recent commitment to UConn is no different.
For many rising prospects, committing to a top program comes with fanfare and praise in their respective communities. In the greater girls' basketball community that decision also comes with a big target on the prospect's back.
For Brianna Banks, a native of Newnan, Ga., dealing with the expectations is just the norm. Newnan is a city of approximately 27,000 residents sitting 38 miles southwest of Atlanta.
Banks has fought hard to overcome the stigma of not hailing from a big city. She is the No. 28 ranked player in the 2011 class, according to ESPN HoopGurlz, and the highest ranked prospect in the state of Georgia. Yet most of what she hears in her home state is backhanded compliments or whispers that she's not as good as advertised.
"They say it in a slick way," Banks said. "They're trying to get me& it makes me want to prove them wrong."
Part of the whispering could have to do with playing with an out-of-state club team, Essence out of Tallahassee, Fla.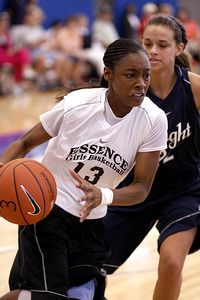 Brianna Banks' aggression is one reason she could be one of the better players to come out of the 2011 class.
Kimberly Davis-Powell, the executive director of Essence, hears the whispers and doubters too, but she smiles about it because it actually makes her life as a coach easier. She doesn't have to motivate Banks to play hard.
"I think her maturity really grew in July," Davis-Powell said, "by leaps and bounds."
That maturity allows Banks to keep her cool while still playing with the fiery competitiveness that defines her game. It's something she may have received from her parents, Andre Banks and Stephanie Rice, who both played basketball in the Army. She also draws a lot of her support and strength from her mom's fiancé, Terell Miller.
Banks isn't a super-talkative person. She much prefers to roll the ball out there and play. But don't mistake her lack of words for weakness; she is a very confident player, which is something she thinks she has in common with the current players at Connecticut. She knows exactly what she wants.
In recruiting she had a long list of suitors but for Banks there were two schools that stood out the most --Connecticut and Louisiana State.
"I made an unofficial to UConn first and after that I pretty much knew that's where I wanted to go," Banks said.
When any prospect from the South commits to a school in the north, the location question comes up.
"It's really not that different than Newnan," Banks said. "It's still country and in the middle of nowhere."
The lefty guard is an explosive athlete who can defend all three perimeter positions. Banks will join the No. 2 ranked prospect in the junior class, Kaleena Mosqueda-Lewis of Anaheim, Calif., in the Huskies' signing class next fall. The two will have the daunting task of replacing current juniors Lorin Dixon and Maya Moore.
Of course they won't be filling those shoes alone. The Huskies signed the No. 3 class in the country for 2010, which included all five players ranked in the top 100 and four of the five in the top 50.